Miss Cornelia Hancock
1840 - 1927
{Hancock Auxiliary #10} {Index Page}

C
ornelia was a Union army volunteer nurse, the founder of a school for African Americans in South Carolina during Reconstruction and a social reformer in the poor southwest section of Philadelphia, Pennsylvania. Born February 8, 1840 at Hancock's Bridge, Salem County, New Jersey to Thomas Yorke and Rachel (Nicholson) Hancock, she was the fourth child and third daughter in this Quaker family.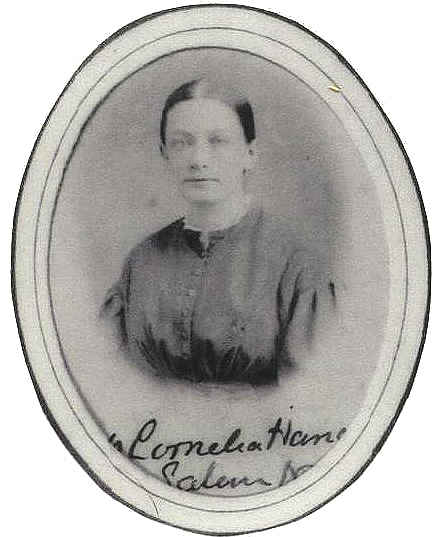 Hancock's family, descendants of Richard Hancock, an original settler of Hancock's Bridge in 1675, and of Judge William Hancock, a victim of a British Massacre in 1778, lived in the fishing village a few miles south of Salem, NJ. Runaway slaves (contraband) were both hunted and protected in this border area where many residents were strong abolitionists. Hancock's father fished every day and gave away the extra fish the family did not eat.
Hancock's sister Ellen (Hancock) Child, wife of Dr. Henry T. Child, lived in Philadelphia, where during her frequent visits Cornelia learned of Henry Child's antislavery work. The Battle of Gettysburg gave Hancock the opportunity she longed for - a chance to participate in the effort to free the slaves and to preserve the Union. Her brother had gone to war, and she wanted to help. Doctors and nurses were desperately needed at Gettysburg to care for the wounded, so Dr Child took Hancock with him despite the opposition of Dorothea Dix, superintendent of nurses. Dix wanted only older women and considered Hancock unsuitable because she was young, small and pretty. Hancock, exercising independence and resourcefulness, simply got on the train while her case was being argued. Once at Gettysburg, there was such and overwhelming need for workers that Hancock's competence was no longer questioned. She later obtained an agreement that the surgeons in charge of field hospitals could appoint whomever they wished to work under them "irrespective of age, size or looks." This agreement made it possible to circumvent Dix's authority.
Picture Courtesy of NJ His. Soc, Newark, NJ
She wrote often to her family and friends in Salem County and Philadelphia asking for food, clothing, bandages, sheets and blankets which they gladly supplied supplementing the stores of the U.S. Sanitary Commission. Thus, Hancock's wounded were often better cared for than those in the general issue. Her patients presented her with a silver medal engraved with these words: "Miss Cornelia Hancock, presented by the wounded soldiers 3rd Division 2nd Army Corps. Testimonial of regard for ministrations of mercy to the wounded soldiers at Gettysburg, PA - July 1863."
After Gettysburg, Hancock turned to work among the Black refugees crowding into Washington. Although disapproval was expressed from home because she lived alone among men at the field hospitals, she defended her unconventional way of life vigorously and courteously, saying that she would "do nothing rash or romantic." The culmination of her army duty came as she stood on the reviewing stand in Washington to watch Sherman's victory parade.
She returned to her sister's home in Philadelphia after the war. Then the Philadelphia Friends Association for the Aid and Elevation of the Freedmen sent her to South Carolina where she founded a school (later known as the Laing School) at Mt. Pleasant. She begged family, government agencies and the Friends Association in Philadelphia for books, seeds, tools, cloth and money. Finally, 200 children were enrolled at the school. These children, in contrast to Hancock's pupils back home, were eager to learn and a delight to teach. Hancock and her coworkers were not welcome among the white southerners. She and her supporters and coworkers were not stopped however and she remained at Mt. Pleasant as principal of the Laing School until 1875.
Suffering from dyspepsia, headaches and hemorrhages Hancock left the Laing School and returned to Philadelphia in 1875. A short rest seemed to renew her energy and she was soon off to England to study philanthropic social work. Returning to Philadelphia she helped form the Society for Organizing Charity in 1878 (later the Family Society of Philadelphia) and the Children's Aid Society of Pennsylvania.
In 1884 Hancock and her friend Edith Wright led a movement to prove that good management could create a healthful as well as profitable community in Wrightsville, a squalid neighborhood in southwest Philadelphia. Hancock and Wright made rules for the residents, repaired buildings, pressured city bureaus for paved streets and police protection, enforced rules of cleanliness and order, placed an effective principal in the school and even initiated the opening of a public library with books in both English and German. By 1914 all the residents of Wrightsville were homeowners, a triumph of the crusade.
During her last years, Hancock lived with a niece in Atlantic City, New Jersey, where she died of nephritis on December 31, 1927 at the age of 87. Her ashes are buried at what is now known as Cedar Hills Friends' Cemetery in Harmersville, New Jersey near her birthplace.

Return to Cornelia Hancock Auxiliary #10